Middle schooler's musicality gets them into high school marching Band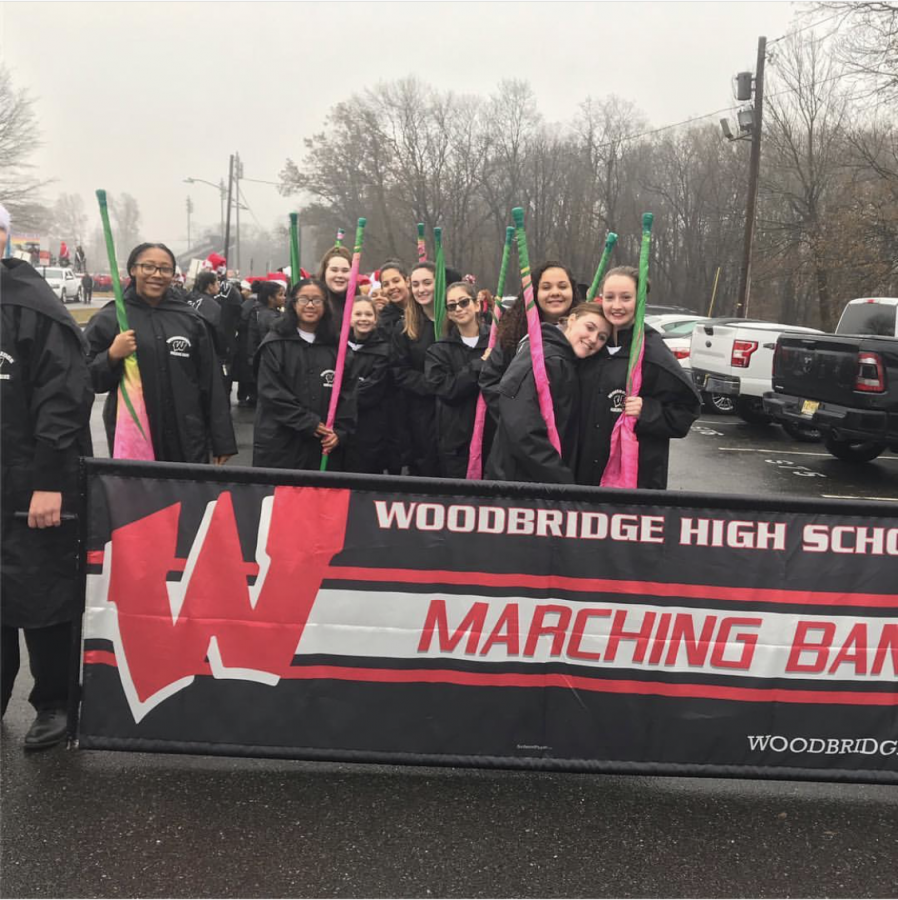 The High School Marching Band is now letting Middle schoolers in on the fun.  Woodbridge High school is welcoming 8th graders into their marching band.
Claire Ortega, an 8th grader at Woodbridge Middle school, commented, "Marching band is like a huge family."  Many people in color guard and marching band seemed to agree as more and more join. Ortega recently joined "the big family'" that is marching band, and provided a few tips about her experiences.
Teresa Androvich, an 8th grader and color guard member, had positive thoughts about color guard and a few tips, "Yea I like it. Always make sure you're on time, like what Mr.Kohn said, 'if you're on time you're late, if you're early, you're on time.'"
A color guard member and WMS student, Kayla Ruiz, agreed that color guard was "fun", but didn't have much interest in the football games.                                                                                                     
Mrs. Maneri, the band teacher at Woodbridge Middle School, recommended marching band for students excelling in band and had a said,  "I think it teaches a lot about responsibility. I think it challenges your musicality because there is part of music that we don't play here."
Mrs. Maneri also explained how responsibility is an important feature, "Definitely going back to the responsibility because there is a schedule and showing up on time [is important] and a lot of rehearsal time.  It is fun as long as you're prepared for the challenge."
Mr. Kohn, the "manager" and conductor, of the marching band at Woodbridge High School said,"[I] actually don't frequently conduct the marching band."  He lets student leaders he picks to be responsible for the job of conducting, those students are called 'drum majors'.
Mr. Kohn said he views himself as more of a 'coach' and 'manager' of the group. Also, Mr. Kohn helps "the show, organize practices, lead the students, and oversee a staff of additional instructors." Mr. Kohn marched in high school, college, and in a semi-professional group where he met his wife.
Mr. Kohn shared some advice for any middle schoolers or high schooler about joining, "Talk to your music teacher and find out more. They are your best resource. If you reach out to me specifically, I'll give you the basics then tell you to speak to the band members. They are the best people to tell you what it is really about."
Mr. Kohn also had advice for some teachers who wanted to conduct or who were already conducting marching band,"Teachers of the marching arts have to find balance.  We always want to push our students to be successful, often past their comfort levels, while still understanding each performer has their own story to tell. Marching band is not easy, we often spend over 20 hours a week together, so finding that balance and harmony is key."
Kohn is the director and conductor of this Marching band so if you have anymore questions you can contact him for more information.