Zoos or the Wild?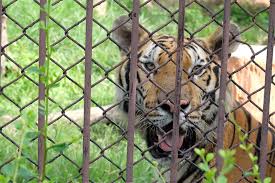 Zoos and animal sanctuaries are known to bring entertainment and joy to people, but have we ever thought how the animals felt? I think that zoos are fine if they are being cared for and loved. I interviewed a couple of WMS students and teachers to get their opinion on this topic as well.
One big problem with zoos is the limited space animals get. An animal's emotions can impact their life.The students and teachers believe that when animals are enclosed in a cage, they aren't living in their natural habitat. They are in a "fake" environment because they can't interact with other animals. 
Another big issue is how the animals react due to the amount of space. Eighth grade teacher, Mr.Blackmore, explained how animals live longer in the wild than the soon because of depression. They harm each other, get ill, and are forced to endure in varieties of weather, which can affect them and their health. It is also bad for their physical health because with the animals in the same small environment, they aren't getting to run around a lot, or hunting prey.
Now that we know most of the cons, let's talk about some positives. Zoos provide lots of information for kids to learn about. Many School trips are to the zoo because they display a variety of animals. Along with that, zoos give people entertainment and joy. Zoos have a myriad of animals that you wouldn't see on a regular basis, so going there can show you  different animals, insects, and fish.
When animals are in the zoo, you would probably think that they are being taken care of properly, but lately zoo owners have been having trouble paying for proper medical care. If an animal gets sick they have to take care of it immediately or else something bad could happen to it. If one big animal dies, it could be a big problem because they would have to replace it, which can cost lots of money that the zoo might not be able to finance. 
Sixth grade teacher Mrs. Gallagher stated that zoos are "fabulous" places to visit and learn, but places like SeaQuest aren't necessary. On the other hand, eighth grade teacher Mr. Blackmore and students complain how zoos can be "cruel" and how they can "suffer." 
Animals help us and the environment so we have to do our best to help them.