Mickey's Not So Scary Halloween Party 2019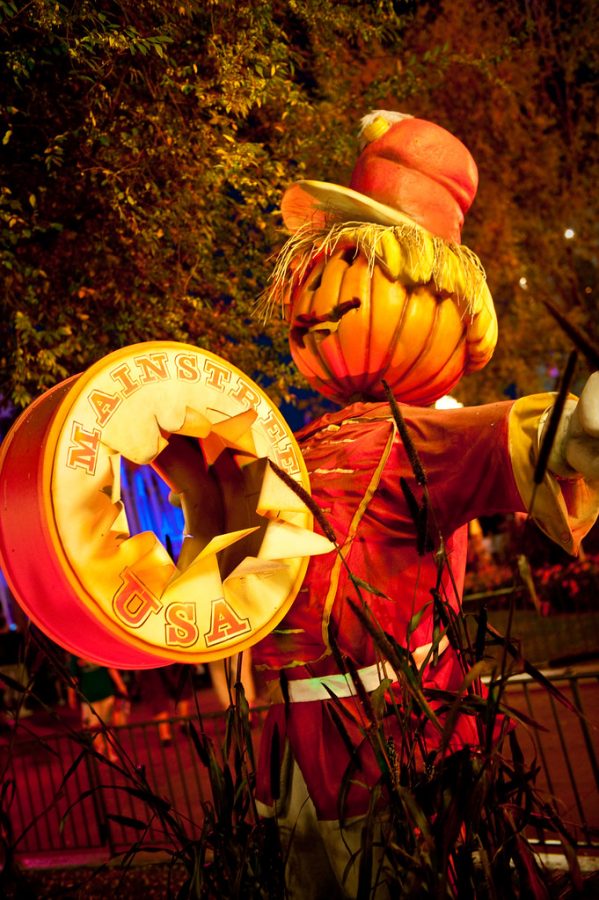 The pumpkin king has returned to Walt Disney World and the 999 happy haunts are here to say hello! But don't worry, it's not so very scary!
Mickey's Not So Scary Halloween Party has returned to the Magic Kingdom and there are a bunch of activities. I am here to give you a guide on how to plan your night at this spooktacular event! 
Character Meet and Greets:From your normal characters to rare ones, character meet and greets shouldn't be overseen! 
Some of the normal characters that can be seen throughout the day are: 
Mickey and Friends 
Winnie the Pooh and Friends 
Disney Princesses
Some characters exclusive to the party include: 
Jack and Sally 
Disney Villains 
Moana 
Brer Rabbit, Brer Fox, Brer Rabbit 
Tarzan, Jane, and Terk 
Captain Jack Sparrow 
Lotso 
Elvis Stitch 
Seven Dwarfs 
Food:The special event food for MNSSHP this year looks simply to die for! Bone-appetite!
All day foods: 
Amuck Cupcake: This treat is a vanilla cupcake with toffee, peanut butter, and chocolate chips baked into it with a caramel sauce inside.
Halloween Cinnamon Roll: This fa-boo-lous dessert is a classic cinnamon roll with a spooky twist. This treat is a giant Mickey head-shaped cinnamon roll with orange icing. It is also topped with a chocolate spider web. 
Donald Duck Brownie: This classic brownie is covered with a layer of vanilla buttercream and topped with a white chocolate piece featuring Donald Duck in a pumpkin costume.     
Pumpkin Spice Milkshake: This is a pumpkin spice flavored milkshake topped off with whipped cream, pumpkin shaped candy corn, and an orange Mickey head shaped marshmallow. 
Party Exclusive Snacks: 
Hades Nachos: These nachos are hot just like the hot head they were named after! Black bean tortilla chips are topped with buffalo chicken and classic nacho cheese to bring this spicy snack together. 
Billy's Worms and Dirt: A gluten friendly treat that consist of chocolate pudding, gluten free chocolate cake crumbles, gummy worms, and a whites chocolate piece of Billy from Hocus Pocus. 
Constance's For Better or For Worse Wedding Cake: This is a citrus scented cake covered in mirror glaze and decorated with buttercream pearls. Inside is a raspberry buttercream and it's all topped off with a white chocolate hatchet. 
Lots-O-Burger: You can get this berry good burger at Cosmic Ray's and it includes a brie fondue, an onion ring, and bacon strawberry jam. On top of all that is a bun with the face of everyone's favorite strawberry scented bear! 
Ride Overlays:MNSSHP also includes special overlays for some rides! When 6:00 rolls around, the rides shut down in order to make way for their special overlays so they can reopen at 7:00 in time for the party's start! 
Haunted Mansion: The Haunted Mansion doesn't have anything done inside, but outside is a different story. Some of the happy haunts have decided to stay outside to entertain some of the guests! They are super funny and definitely add some atmosphere to the usual dead air of the Haunted Mansion. 
Pirates of the Caribbean: Unlike the Haunted Mansion, the overlay is inside of the ride! Live actors play pirates on the ride and interact with guests as you go through the que and the ride! 
Mad Tea Party: The Mad Tea party gets even madder when a special Halloween playlist is blasting and different colored lights are flashing as you spin around on this ride! Be ready for laughs and have that Cheshire smile ready because you will be in for a crazy, kooky, nonsensical ride! 
Space Mountain: Space Mountain gets a crazy Halloween overlay. It's no secret that many fans of the ride dream of riding it with all the lights on, but what about with all the lights off? That's exactly what happens for Space Mountain's overlay. Every light on the ride is shut off and a rock playlist is blasting. If you like intense rides, then this is definitely for you. 
Entertainment:The entertainment at the party is incredible! From a parade to a firework spectacular, MNSSHP has you covered! 
Boo to You Parade: The Boo to You Parade is a must do at the party. The parade contains a section for each area of the park and has a catchy tune. From all the characters, to the music, too out of this world floats this parade will have your bones shaking in excitement! 
Not-So-Spooky Spectacular: This is the brand new fireworks spectacular that everyone has been excited for. The show is hosted by the pumpkin king himself, Jack Skellington and uses projections on the castle. 
Hocus Pocus Villain Spooktacular: The perfect way to end your night is the Hocus Pocus Villain Spooktacular. In this show, you help the Sanderson Sisters brew their party potion to bring the Halloween spirit to the Magic Kingdom! Villains drop by to give ingredients to the sisters for them to cast their spooktacular spell!