Magical teachers awarded march teachers of the month
Some of the best teachers in the district are in WMS. The teachers have been teacher of the month before, but they deserve to be nominated again.
Mr.Cianfano was the sixth grade teacher of the month and he was nominated four times. Cianfano likes to make his class fun, but he also wants the students to learn "instead of fooling around".  He does different things throughout the year, like fantasy football where the students learn how to estimate and to calculate whole numbers.
For fantasy baseball Cianfano taught percentages and how to use them. Cianfano said, " A good teacher needs to know how to teach the material, present the material and make the class fun."
Mr.Cianfano said his favorite subject when he was in school was history, "He loved it". Cianfano said if he didn't become a teacher he would have been a college football coach and if he was talking about division 1 he said he wanted to be coach for Notre Dame.       
Mrs. Burke is a seventh grade math teacher that has been nominated for teacher of the month before, but "doesn't remember how many times". Mrs. Burke also stated that a good teacher is "passionate about  their job and good around kids".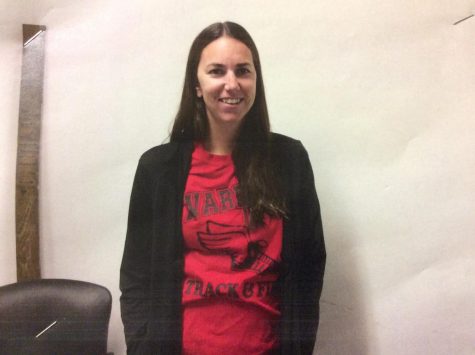 Mrs. Burke also said that "if I wasn't a math teacher I would be an interior designer". Following that, Burke stated that, "I didn't actually go to school for math, my professor influenced me too." Mrs. Burke said that her favorite subject was "not history, but probably science, math, or art".
Mrs.Malmstrom is an eighth grade language arts teacher. Malmstrom likes to make her class fun and  thinks that all teachers should have a "sense of humor". Malmstrom has always liked language arts and she loves to teach it.
Malmstrom has also been teacher of the month one other time in her teaching career. Malmstrom reads plays with her class and right now they are reading a Shakespeare play. At first she was worried, but the kids are "loving it".
Malmstrom always says she wanted to become a "detective, nurse, veterinarian, lawyer and crime scene investigator". But Malmstrom thinks she made a good choice to become a teacher. Malmstrom stated "I always enjoyed working with the kids". She continued, "My mom was a nanny and my grandmother was a teacher, so I think that was a big influence on my decision".
The teachers of the  month deserved these awards and even though all of them have won this award already, it gives them more of a reason to be teacher of the month again.