'Why don't we just' go see a concert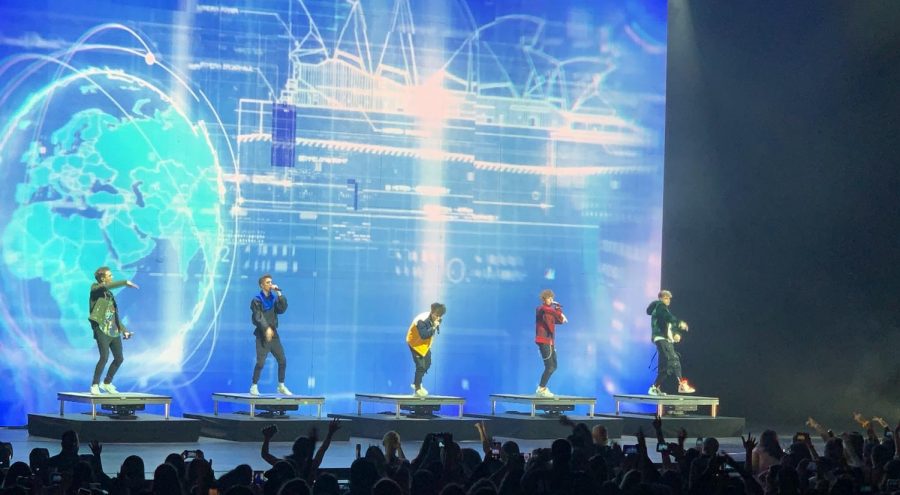 On April 5, 2019 a band called Why Don't We performed at Radio City Music Hall. They were there to perform their 8 Letters Tour set list.
Some people who attended the concert were Cristina McNish, Julie Mitchell and Caitlin McNish. All three of these "limelights" had admirable seats since the venue sold out within two hours.
The show by Why Don't We, at Radio City Music Hall was amazing. The band was extremely thankful for all the fans who showed and everyone in the venue looked like they were having a blast. Overall, the actual show was astonishing with all the background videos and pictures displayed on the stage.
Julie Mitchell, who attended the show, said, "I really loved the concert because I got to see my favorite people and spend time with my cousin." While in the city Mitchell said she also "made good memories" and  "[her mom, uncle, cousin, and Julie] went to a restaurant, stopped to get an umbrella, [and] waited in line for an hour in the rain". Mitchell's favorite part of the concert was "when the boys first came out on the stage and when they had a big pep talk on stage."
Cristina McNish, another attendee of the concert, said, "my favorite part of the concert [was when the band] played 'I Don't Belong In This Club' with the [fan project of] glow sticks." While in the city Cristina said, "[her] overall experience was wonderful. The concert itself was astounding. My chicken parmesan from Nino's ,[a restaurant in the city], was delectable and the zesty sauce and gooey cheese on top of my dish was very appetizing."  Cristina also loved the "fan project" where all the fans held multi-colored glow sticks up while the band sang 'I Don't Belong In This Club', a new song by Why Don't We. Cristina rated the show a "10" and said "mwah" to describe the show. Cristina said, "Definitely the best Why Don't We concert I ever went to".
Caitlin McNish, another attendee of the concert, said she enjoyed the show "because it was fun and she] knew all the songs". While visiting the city, Caitlin saw some famous places and people like, "[Why Don't We, Time Square, [and] The new years eve ball." Caitlin went to the concert because "[her mom] bought the tickets 7 months ago and it would be a waste not to go and also it would be fun."