Marching into March Madness at WMS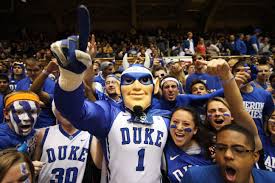 Marching into March Madness at WMS
It's the most wonderful time of the year, when all the best college teams clash to see who the best team is. The last team standing wins.  The most important time for college basketball is March Madness. It's what all the college fans have been waiting for. Some of the best rivalries are played here. Coach 'K' and his team Duke against Roy Williams and North Carolina. There are ups and downs for each team in college but one has to hope it's not in March. There are always upsets and at the end of the day there is at least one team going home. This is what you call madness.
Gonzaga! Gonzaga! WMS 7th grade Gonzaga fan Drew Lukachyk explained who he thinks will win. Lukachyk said that "Unfortunately Duke will win because of Zion Williamson and R.J Barrett". Lukachyk has also said he "likes the NBA more because it has players with much more experience". But Josh Ruck disagrees saying "college is better".
In an interesting turn of events, even,  LSU fan, Josh Ruck said that "Gonzaga will win".
A sixth grader, Chris Milevoi, is also into the madness with a couple brackets. He said he likes North Carolina and thinks that they are going to win. Even though he likes the NBA more he still watches college. He said that Zion Williamson is the "best player" but he still thinks North Carolina "has a chance".
Teachers at WMS have been talking about March Madness. Mr.Cianfano doesn't watch March Madness, but he does know "a lot about sports". Cianfano said that he likes to stick with the local teams.  Cianfano's prediction is that Duke is going to win because "they have a good program year in and year out".
7th and 8th grade language arts teacher, Mr. Murphy and self-proclaimed "huge fan" of college basketball said  "either Duke or Michigan State is going to win it". Murphy also said he likes Purdue because the "only other good team in their conference is Virginia and they don't score like crazy so they have a good shot".
Mr.Blasena decided to choose the teams by their jersey color. Ms.Nardoza , Mr.Murphy and Mr.Blasena all chose the colors together and decided who's jersey looked nicer.  He said he was "surprised" how Ms.Nardoza did her brackets he thought it was "hilarious". He had Purdue winning the championship and he has a good chance because Purdue is good.  
Ms. Nardoza, who has also done her own bracket, has chose it based on which mascot would win in a fight. Nardoza stated that she chose a bracket this way because "I don't watch college basketball even though I played it".  Nardoza also stated that "my favorite team is U.C Irvine because they are the Anteaters". Nardoza also had the Anteaters beating a train (Boiler Makers), which is the mascot for Purdue, because the Anteater will "move out of the way".
We believe Duke will win March Madness. We are actually Duke fans as well so we are happy Duke is so good right now. We believe that  Gonzaga and North Carolina are the competition for Duke. Hopefully Duke beats them and become champions.
So far it's been going well for them in the regular season, but hopefully the jitters won't get to them. Especially because Zion Williamson is a rookie and he has never been in March Madness before. He has a great chance but it would not be wise to put all your money on him because he has never experienced the madness.