WMS students show Warrior Way in January!
As WMS students lead by example, seven students were honored with the January Student of the Month award. These students demonstrated the Warrior Way every single day!
Jorge Fernandez, 6th grade student, won the Student of The Month award. Fernandez said that his fifth grade teacher and Ms.Moorjani are his inspiration. He also included that there has been a "big change" from fifth grade to sixth grade.
Jacklyn Berger, 6th grade Student of the Month, said she felt "accomplished" and "excited" when she heard she had won. When asked about the change from elementary school to middle school, Berger stated, "For me there was a huge change between it, especially having to walk around the school all the time, and they are lot more strict [In middle school than elementary school]."
Berger said her inspiration comes from Mr.Mcguire, Ms.Duffy, and Ms.Steinberg because "they are really focused on the subject that they teach." In fact, Mr. Mcguire inspires her so much that when she gets older she would "love" to be a music teacher just like Mr. Mcguire.
Sarah Rasimowicz, 7th grade student of the month, said she felt "surprised" when her name got called because she didn't expect to win. Rasimowicz also said that her favorite class is Language arts because "it's the most interactive".  She also said that she learns the most in that class. Rasimowicz sees herself in 5 years, " Hopefully getting accepted into Julliard and starting my acting career." Julliard is a prestigious performing arts college in New York City.
Josh Ruck, another 7th grade student of the month, said someone he looks up to is "Mr.Thompson because he is an amazing teacher". Ruck continued that his favorite class is journalism because he likes "writing articles" and "interviewing people."
Jack Brenner, another 7th grade student of the month, said that Mr. Miller and Mr. Thompson inspire him, also stating that some advice to give to someone who would like to be Student of the month would be to say, "When you see someone who drops their books pick them up for the person."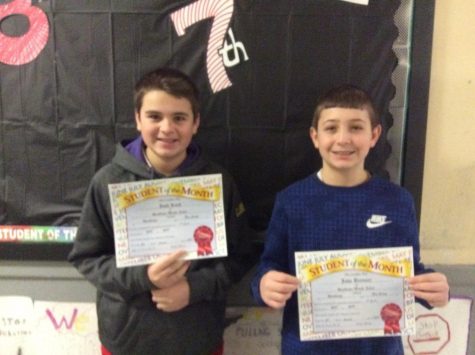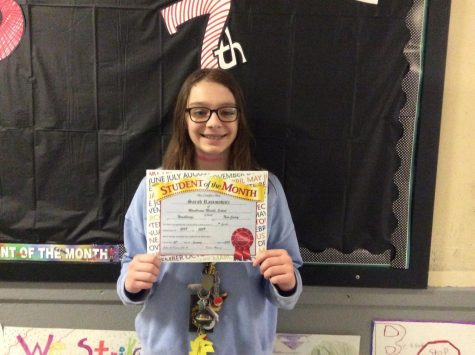 Eighth grader, Sophia Rollo said that she feels proud. Rollo also stated to "maintain that goodness and work hard" in order to become Student of The Month."I felt nervous and shocked, I smiled. I was happy," said Rollo. She said that she was happy she got recognized for "[her] good actions".  
8th grade Student of the Month Nick Avila said that he "felt proud, accomplished and shocked" winning Student of the Month. In order to get the award, Nick Avila said to "work hard". Avila had said that the best thing about winning Student of The Month is the feeling when parents congratulate [them].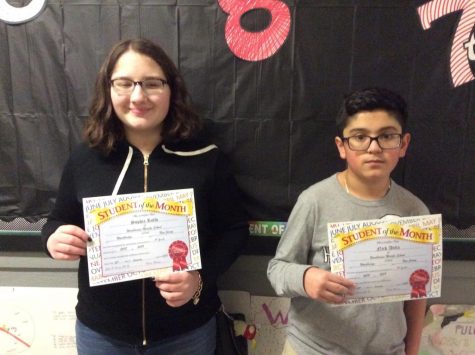 Congratulations to all of the Student of the Months! Keep up the good work! Hopefully, other students can follow their example and pave the way for more exemplary students, like these.