WMS students and faculty make the best out of having gym in the cafeteria
This school year at WMS due to construction 8th graders are having their gym in the cafeteria and are trying to make thebest of it.
Katie Joe, an 8th grader at WMS, enjoyed having gym in the gym, but is making the best of it. Joe said, "I was pretty upset about not having real gym anymore because I enjoyed playing sports and I think that they should have worked on it more in the summer". Joe also explained how it took a little bit to get used to it, but she enjoys talking to her friends and "catching up".Joe says that the games that she misses the most are wiffle ball on the softball field and guard the castle. But after all, Joe is thankful for all the hard work the gym teachers have done to make their gym class better even though they are in the cafeteria.
Another 8th grader Leah Kripaitis, said she was displeased when she had heard the news about having gym in the cafeteria. Kripaitis said, "I thought it was dumb and miserable and boring because we couldn't play sports in the cafeteria". Kripaitis explained how it was boring at first, but became enjoyable because " [she] couldn't do that much, but it got better because [she] could play ping pong."Kripaitis continued, "I like how we don't have to stretch, but I do miss knockout and playing sports". Kripaitis wishes the school could get a pool table for the future.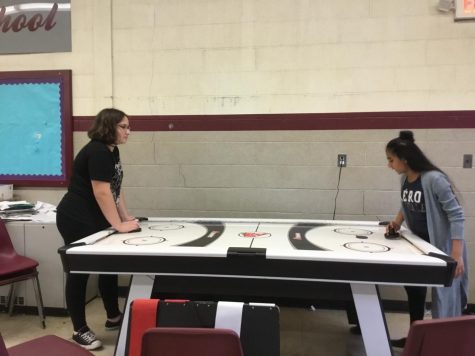 Chloe Monsanto is an 8th grader attending WMS who also has gym in the cafeteria. At first, Monsanto thought that it would be boring, but she thinks that it's "not that bad" and "kind of likes it" better than regular gym so she can do her homework. Monsanto said, "the first few days were confusing because I still thought that we were in the gym." Monsanto explains that it might be a problem for 8th graders because we had no gym for a year then they will have high school gym.The biggest difference that Monsanto noticed between last year and this year is kids are "more bored than last year" because and they do the same activities every day. Monsanto says that in order to make the experience better "they should let us use our phones again".
 Gia Polak was "confused" at first when hearing about the construction to the gym and then she "got annoyed". Polak says she thinks that gym in the cafeteria is boring and the time goes by slower.Conversely, Polak also said, "I kind of like it better now because we have more choices, like if we want to go outside and we don't have to worry about clothes anymore". Polak also agrees with Monsanto that students should be allowed to us students their phones again.