Our school's beautification continues through Mural Club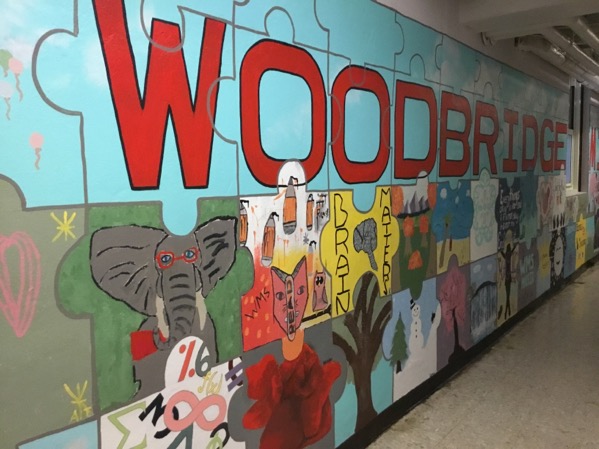 Hang on for a minute...we're trying to find some more stories you might like.
Mrs. Kemper, Mr. Lee and Mr. Malmstrom will continue the transformation of our school through mural club, starting up again this winter.
Through mural club, students can create art while becoming involved "in the culture of our school." Mr. Malmstrom states that the club has become like a "tight knit family," where student's hard work can be celebrated. And of course, it provides "the opportunity to paint on the wall, without getting in trouble."
Mr. Lee confirms that new projects will be more "collaborative" than the previous one, and will involve more teamwork.
After noticing a basement hallway resembles a village, Mrs. Kemper decided that she wanted participants to create a village. Students participating in the coming mural will have the opportunity to integrate their own individuality by creating old fashioned shops, their favorite book characters, and abstract designs.
The previous mural, in the school's basement, consisted of different puzzles pieces, each piece designed by either a student or teacher. Members had creative freedom to create whatever they wanted on their puzzle pieces.
Mrs. Kemper, the organizer of mural club, explained the previous mural was a huge success. Not only did the mayor come to admire the murals, Mrs. Kemper has had many situations in which people have wanted to attend the school because "parents knew the students cared about a nice environment."
6th grader, and new addition to mural club, Nisha Hodgins describes how she hopes to achieve "inner peace," through mural club. She often resorts to art because, "(Art) lets you turn your emotions into something beautiful."
Jessica Joseph, an 8th grader and previous member of mural club states she's always been "heavily involved in the arts," and joined for a new way to release stress. Through her murals she hopes to create an unforgettable legacy. She says, "I want people to see what the class of 2018 created."
Mural Club will meet on the following Wednesdays:
November 15th: Informational Meeting
November 29th: Informational Meeting for those who couldn't attend the last one
December 6th: Brainstorming meeting; form small groups
December 13th: Sketching/ Coloring ideas from Brainstorming
January 3rd: Group 1- each student will paint on canvas board (if materials arrive)
January 10th: Group 2 – each student will paint on canvas board (if materials arrive)
January 17th: Group 1- sketch mural, paint in the background.
January 24th: Start small groups, individual elements in paintings
Groups will then continue meeting every Wednesday until mural is complete.