Pretzel palooza enters WMS
Friday, March 3rd introduced the Pretzel Sale at the cafeteria. Mrs. Maneri, Band Teacher/Snack Sale ran it. Credit goes to principal, Dr. Lott as she came up with the idea of the sale. The money will go to the Choir/Band Competition Trip and other things like instruments.
According to Mrs. Maneri, the money collected goes to the following events: "It goes to our competition trip to pay for some of the buses. It goes to buying that are needed for the program, small things like reeds or big things like instruments"
Maneri also said that pretzels will come back on Friday March 10th "twice a month" until the end of the school year, a reminder to stay tuned in the future.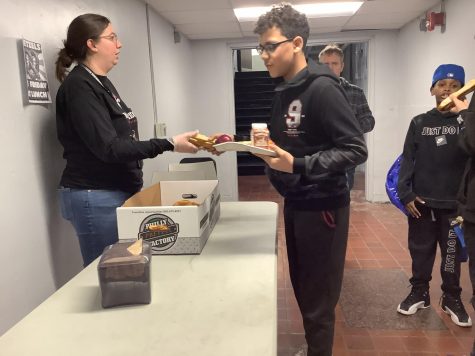 8th Grader, Thomas Oatman, talked about what he expected the pretzel sale was going to be like for him. He said, "You know, I expected what they gave me. I expected how the salt ratio of the pretzel was really good, because [a two to one salt] is prime ratio for me. But I think they handled the business really well. Though a lot of kids bought it, I think that was good. Good job on the WMS school part." 
8th Grader, Macie Mastrola, also stated her overall expectations on the pretzel sale "I expected, I thought they were going to be like different, the pretzels. But they were still good and they were cold. I wish they were warm" 
Mastrola also gave credit to the sale replying, "It's cool that they raised money for the band stuff, so that was a good idea." 
8th Grader, Ava Czeriak gave what she expected of the sale herself and said, "I think that they should do another one. Another pretzel sale."   
According to Thomas Oatman, he gave his idea for a future ideal cafeteria snack sale, "I think I would have to go with a dessert sale, maybe ice cream. Because a lot of kids like that and it would be a good way to [fundraise] for a school."
Mastrola talked about her thoughts on an upcoming cafeteria snack sale idea, saying, "Maybe they should sell something that will attract the students more, maybe like once a month or like every other month and do donuts from Dunkin Donuts or cupcakes, cookies, stuff like that. I mean they do sell cookies at [lunch] but not everyone is having lunch again."
7th Grader, Juliette Hernandez, gave what she thinks is a great idea for a future cafeteria snack sale. She said, "I think ice cream would be good because I really like ice cream and I think it would make a lot of money for the school" 
"Probably do, different kinds of drinks. Like juice and stuff for the students because I feel like that definitely raises a lot of money. Or do pretzels again. I like the pretzels," said 8th grader and pretzel enthusiast, Ava Czerniak  
Lastly, 8th grader, Savannah Katsock, stated, "I guess ButterFingers, because I like chocolate and peanut butter." 
Thanks to all of those who participated in the pretzel sale as the money will help band class, buses and the program itself. Thanks to Dr. Lott for the idea of the pretzel sale and Mrs. Maneri who ran it, as many students bought pretzels. Let's stay tuned for more, WMS!