WMS boys and girls bowling teams take the championship
The 2023 boys and girls WMS bowling teams had a successful season at the Woodbridge Bowling Center during the spring semester. Both teams took home the championship.
Coach Maneri, previously a 5 time, but now a six time championship bowling coach, talked about how teamwork is the reason for their success. Maneri said, "They are learning how to bowl as a team more than bowling as individuals. They are starting to learn that if one guy doesn't spare then the other person will get it. They have very good teamwork."
Coach Maneri continued, "Out of 30 possible points you can get in a season, the boys got 29. That was the game I got nervous about and we only lost by nine pins. It was a game where you needed one spare to win a game."
7th grade starter, Dylan Stephen, felt like he had a successful season, and said, "I like our team, we got a good squad." Stephen said he was not going to try out if it wasn't for Ethan Brucato. Brucato asked Stephen, "You should come try out for the team, help us out." Stephen indeed tried out and helped the team to their successful season.
Star bowler, Ethan Brucato, said he had a good season, and felt good because they were winning constantly. Brucato led the team to a 6th championship. Brucato said he felt like he did great, bowling a 222 the first game and a 164 the second. He got into bowling at only four years old and started taking it seriously around ten.
Tommy Oatman and Nick Lukachyk said, "Ethan Brucato is a stud." Oatman said he has a good experience on the team and is proud he went undefeated in this season. His brother's friend is a good bowler, and got him into bowling. Oatman starts off the games, and he feels pressure because he is worried that if he does bad, "then it's over."
Nick Lukachyk, an 8th grade bowler said, "It's a very good experience because our team is kind of the best; we've only lost one match. We're for sure the best team." Luckachyk talked about how he got into bowling and said, "No one got me into bowling, I just wanted to try out. I actually didn't even know I was good at bowling. I got myself into bowling."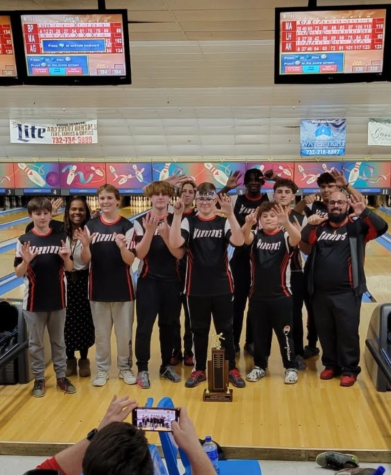 Mr. Maneri also coached the girls bowling team to a fourth straight championship win. Bobbi Jo Timinski, a 7th grade bowler on the girls team said, "I felt like I did pretty good because we won by a high score." She felt like her team bowled better the first game, winning by 72 pins. Winning a championship always feels good and Bobbi Jo felt excited after she won. Bobbi Jo said, "We didn't have that much preparation, we just had to bowl our game" and that's what they did.
8th grade bowler, Macie Mastrola, said, "I played pretty good, I got a turkey," but felt like she could have done better towards the end. Mastrola strongly felt the team played better in their first game. After the game, Mastrola felt "happy and a little shocked" because the game was so close. Congratulations to the WMS boys and girls bowling teams!