All About Delilah Farrell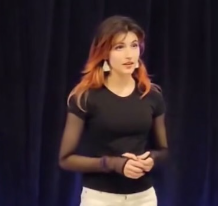 Some of you know Delilah as the quiet girl who sits in the back of class, but there is a lot you don't know about her. She may appear shy but when she steps one foot onto a stage it's like she is a whole new person. 
What many students and teachers at WMS don't realize is that Delilah has been acting since she was really little.  Delilah was 3 years old when she began her acting career.  She said, "The first time I was on stage I was 3 years old, and since then I have just been really good on stage." 
Delilah had a hard childhood, acting was a way of showing her emotions without being rude or a "crybaby." She said, "The best way to be a good actress is to be in a play where you can connect with your character."
Delilah was inspired by Michael Jackson. She grew up listening to him with her mom.  She took Michael Jackson dance classes for 7 years. She has performed a dance to almost all of his songs. 
Delilah also uses theater as a way to make money. She has performed at 8 ghost walks within 4 years, each  earning a hundred dollars or donating to charity. She was also once a paid dancer at a wedding.
Delilah has been in over ten plays, in some,  her roles got switched last minute. She still manages to remember her lines even if she only had five minutes to learn them. When I asked her about how she can do that she said, "I have always had a natural talent for memorizing things."
When I went to see Delilah she blew my mind. Growing up I was never really into plays, but seeing Delilah was amazing. She works hard for every play she was ever in and had fun doing it. She said, "It's more about  the experience, the people you meet, and having fun."
Delilah still gets nervous before she goes on stage, but she says she just focuses on her breathing. For anyone new to acting , she said,  "The more you do it the more fun you will have because the nerves go away."
I talked to one of Delilah's best friends,  Nicoleta Deo. Nikki said, "The first time I saw Delilah preform was in this school in 3rd grade"
They have been friends for a very long time and I would consider Nikki and I her biggest fans. I agree with Nikki when she said, "Delilah could be singing with a group of people but you can always hear her."
When Delilah Farrell becomes famous the first thing she is doing is taking Nikki and myself on a shopping spree, then getting Chipotle. Besides all the money and fame, I will always be proud of Delilah no matter how far she goes.