Baking crumb cake with Maddie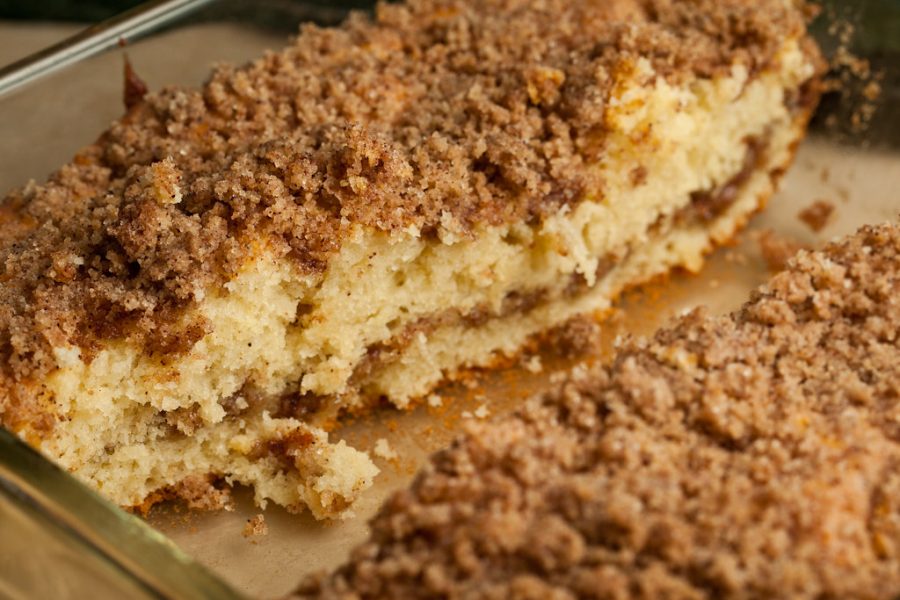 Ingredients :
1 1/4 cups cake flour

1/2 cup granulated sugar

1/4 teaspoon baking soda

1/4 teaspoon table salt

6 tablespoons unsalted butter 3/4 stick, cut into small pieces, softened

1 large egg

1 large egg yolk

2 teaspoon vanilla extract

1/3 cup buttermilk
1/3 cup sugar

1/3 cup dark brown sugar

3/4 teaspoon ground cinnamon

1/8 teaspoon table salt

8 tablespoons unsalted butter 1 stick, melted and still warm

1 3/4 cups cake flour 7 ounces
Instructions :
Add sugar, dark brown sugar, cinnamon, salt and butter into a bowl.

Whisk together and add in cake flour until combined. Form into a dough ball.

Let sit until you are done making the cake.
Preheat oven to 325 degrees.

Coat baking spray or butter and flour in a square 8×8 pan.

In a stand mixer, add flour, sugar, baking soda, and salt

On low speed, add butter in pieces.

Mix for 1-2 minutes, or until you no longer see the butter and the mixture looks like a crumble.

Add in your remaining cake ingredients, egg, egg yolk, vanilla, and buttermilk

Mix until light and fluffy, another 1-2 minutes.

Pour and spread cake batter into greased baking pan.

Take the crumb mixture and break apart into chunks about the size of marbles over the dough in a uniform pattern.

Bake for 35 to 40 minutes, or until a knife is inserted and comes out clean.

Let cool, then dust with powdered sugar.