Are Second-Generations Stars or brother of stars have added pressure to be as good, or better than their predecessor.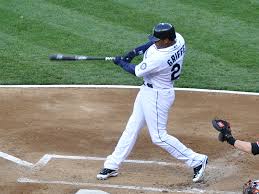 Ken Griffey Sr. and Griffey Jr., Vladimir Guerrero, the son father duo. The more sports progress, the more second generation players we might see. Is there pressure for these second generation stars to follow their predecessor, or just define their career in a completely different route? Does this struggle happen between all siblings and father duos?
As an older brother, there is definitely added pressure for my brother to shine; but there was definitely added pressure on  me as well due to my father playing baseball. My brother is pressured by both my father and me to perform well." If I succeed or perform well, my brother isn't pressured because he will do it again and i will do it again," Cantalupo said it was a chain reaction. Cantalupo would still play all the games he loves, but if his family didn't have a background he wouldn't play as competitively.
Now does this happen in other families? Drew Lukachyk said, "I pressure my little brother a little bit, he feels sometimes to perform better in front of my family; but I feel the same when I perform in front of my baseball father and older brother." Lukachyk would still play baseball if his family didn't have a baseball origin, but his "passion" for the game might be a little less then he would have thought.
An sixth grader female student, Kylie Rackett says she has a relationship with his sister who both loves softball and basketball and enjoy competing. Rackett believes she's better than her sister, (which is debated a lot between the sisters,) but Rackett believes she would still play sports even if her sister or parents didn't play, "I enjoy the game and would play even my family didn't have a background in the sport."
Second generation stars are definitely pressured by a family member to succeed and perform; but to what extent. Everybody is different, some may never play sports, some play, some love, but we all have a different way of how we go about the game. Based off of the small portion of kids I asked, they feel pressured, but would play the game even if not pressured. Do young athletes feel the pressure during the competition or are they as calm as possible, only second generation stars know how they feel.