When Billie Eilish drops a new album, where does she go? To the top of the charts!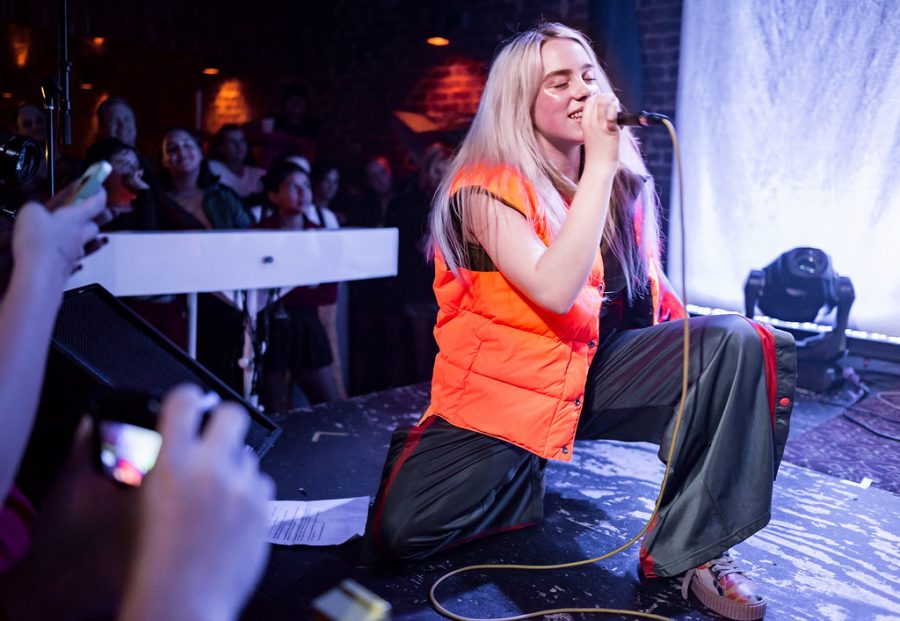 Recently there has been a lot of buzz about the music artist named Billie Eilish. She has become famous at only the age of 17. She started writing music at 13, and released the popular song "Ocean Eyes" in 2016; ever since then she has been a big hit, getting more  popular day-by-day. Billie's full name is Billie Eilish Pirate Baird O'Connell. Billie was born and raised in California. She was homeschooled her whole life and wanted to be a dancer. She danced every single day until she got injured then realized the dream of dancing wasn't for her.
WMS students Emily Joe and Kenza Kharbouch are big fans of Billie. Emily Joe said, "Billie Eilish is an amazing person and is very inspirational".  Billie Eilish speaks a lot about depression and how she suffers with this. Her 'haters' say that she is too young for depression, or that she is "fake depressed". Some people agree and disagree so I asked a few students about it. 6th grade student Biangelis Renya Matos said, "you can't be too young for depression because everyone has their own feelings and everyone is different".  Every student interviewed said that someone can't be too young for depression. Music isn't just a sound or a rhythm, every song has a deep meaning to it. 7th grade student Valeria Genao said, "Billie helps people become the person they want to become". Not only is she inspirational, but her music is powerful and can help others.
What a lot of people don't know about her is that she has a syndrome  called tourettess. She recently told her fans that she had this, and in interviews she said that a lot of her fans have tourettes and can relate. She didn't want to announce it to her fans because she didn't want to be known as the music artist with tourettes.
On March 29th Billie's new album came out called When We All Fall Asleep, Where Do We Go? It was a big surprise for the fandom because no one thought she was not going to debut an album any time soon and only let everyone know a few months before it came out.  Billie EIlish released some songs, which gave a hint there would be an album. Billie is known for writing a lot of slow, sad songs that are beautiful, but she recently released a lot of new upbeat exciting songs. These songs are a lot different than the other ones. There are 14 songs on the new album.
She is currently on tour. Her shows are always sold out. She has been to music awards and sang at many festivals. Recently, she performed at one of the biggest music festivals called Coachella. She was also Apples up next artists and collaborated with Khalid. She has had a lot of success and hopefully will never be forgotten in the music industry.