Baking Chocolate Mousse with Maddie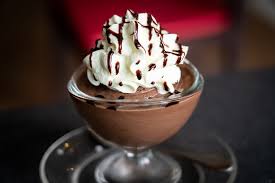 Hang on for a minute...we're trying to find some more stories you might like.
Ingredients:
5 1/4 ounces bittersweet chocolate, coarsely chopped

14 ounces cold heavy cream

3 large egg whites

1-ounce sugar

1 serving sized cups
Instructions:
Place chocolate in a large bowl set over a double boiler at a low simmer. Stir chocolate until melted. Turn off the heat and let sit.

Beat the cream until it forms soft peaks. Set aside at room temperature.

Whip egg whites to soft peaks. Gradually add the sugar and continue whipping until firm. (

Tip : flip the bowl upside down and if the egg white mixture doesn't fall out it's ready).

Remove the chocolate from the double boiler , fold in the egg whites all at once. When the whites are almost completely incorporated, fold in the whipped cream.

Cover the mousse and refrigerate for approximately 1 hour or until set.

Serve in 1 serving sized cups topped with more whipped cream and shaved chocolate, if desired.