The California Gold Rush begins- 1/24/1848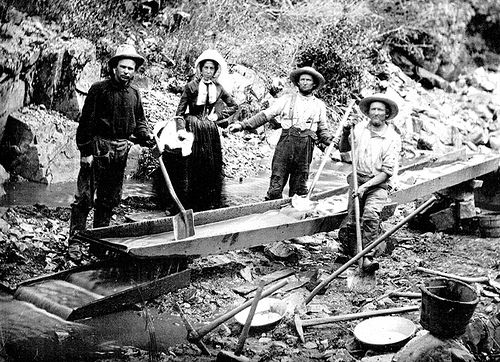 Hang on for a minute...we're trying to find some more stories you might like.
On January 24, 1848 the California Gold Rush began when James W. Marshall found gold at Sutter's Mill in Coloma, California. When the news broke out, an estimated 300,000 people fled to California from all over the United States and abroad.
The increasing supply of gold rapidly grew America's population and economy. Although it had negative effects on Native Californians because of various diseases, starvation, and genocide. People indigenous to the area were also affected greatly by the new-found influx of gold, because they were they were being pushed of their own land by gold-seekers.
At the beginning of the Gold Rush, no law was made regarding property rights in goldfields. Prospectors retrieved gold from streams and riverbeds by panning. More efficient and environmentally friendly techniques were developed like the use of steamships and railroads in 1869.