Season 4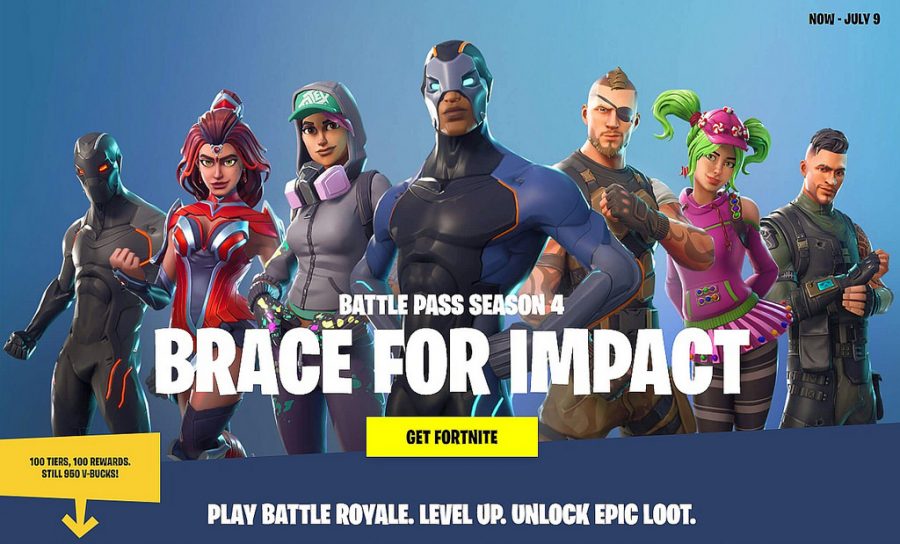 Spring Author, Romani Rodriguez
June 18, 2018
The Fortnite Season 4 Battle Bus is about to fly. It came out on Tuesday at 3.00 am. The big thing that everyone else and I was excited for was the meteor. The meteor started to appear at the end of season 3. We didn't know what was going to happen then season 4 came out.
In season 4 the meteor hit a location in Fortnite. The location goes by the name of Dusty Depot.
Dusty Depot was a location that a player could go to get weapons. Dusty Depot is made up of three buildings. Next to Dusty, there was a factory that had no name. Since it was so close to Dusty, most Fortnite players called it 'Baby Dusty'.
When Season 4 came out, they created a short video showing the meteor hitting Dusty and Baby Dusty. Now there is a space station were Dusty used to be. It also got a new name. It is now called Dusty Divot. There is a big deep hole and a space station now. Scattered around the hole there are little purple rocks that are floating. They grow a bright purple and when you go up to it and open it. When a player opened it, the player gets the power to jump higher than normal for a certain amount of time.
Dusty Depot wasn't the only place that got hit. Other locations got hit, but it the damage wasn't nearly as big as Dusty. Those other holes also have the floating rocks.
Season 4 has much more to bring than just the meteor. They also have new skins and the battle pass. The skins are characters that you can buy to make you look cooler. The battle pass is a pass that you can buy for $10.00. There are tiers which is Fortnite's way of saying you leveled up. You get them for playing the game and completing challenges. There are 100 tiers in the battle pass and every tier you get a prize like a dance or a skin. You can even get banners, which is a logo that you can equip.
The main attraction about season 4 is the tier 100 skin. It is called Omega. It is a dark skin with reddish orange highlights. It is a skin that everyone is excited for. Epic Games which is the creator of Fortnite has done everything right with this season. I can't wait for season 5.