Kissing Booth, the show has started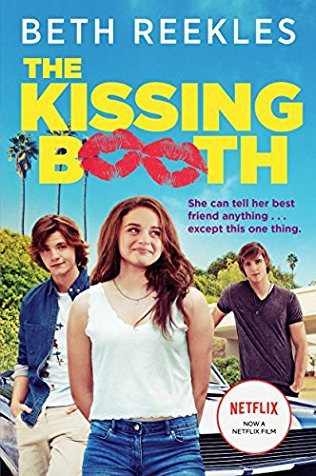 Hang on for a minute...we're trying to find some more stories you might like.
The newest movie in the Netflix family is The Kissing Booth directed by Vince Marcello an it was released on May 11, 2018.
The Kissing Booth is a movie about Elle and Lee, two best friends who treated each other like siblings. They share the same birthday and they were born at the same time. Their mothers are best friends.
During the first part of the movie they really describe the friendship between the two and how much they care for each other, how long they have been friends for and everything they have gone through. It also tells the viewers about the illness that Elle's mom is going through. It also talks about Elle's crush, Noah Flynn, Lee's older brother.
They go to the first day of their junior year in high school. A mishap happens to Elle where she is forced to wear her 9th grade skirt in an 11th grade body. Because she happens to rip her uniform pants and her backup ones where in the dry cleaners. Meanwhile she was in school she was dressed coded and Noah Flynn fought another boy because he touched Elle.
Lee and Elle have to come up with an idea for the spring carnival. They have short time to think about their idea. They come up with a Kissing Booth. They got candidates to participate and when the clients expected to see Flynn(Noah) they got Lee and they were not happy. Only one girl stood in line and she became his girlfriend shortly after. When Olivia, part of the OMG girls, (the OMG girls are the popular girls in the whole school) didn't like the next person in line, she made Elle kiss him but they didn't know that the other boy switched with Noah. Elle got her first kiss and it her best friends brother.
After that kiss Elle and Noah started to hangout more and they secretly became boyfriend and girlfriend behind Lee's back. After a while, Lee finds out and gets mad at Elle. Now Elle has lost the two  most important boys in her life. She decides to move on and then Lee forgives her and Elle goes to prom with Lee and his girlfriend. Noah surprises her in prom but Elle runs away and tells Noah that she can't date him.
Elle and Lee have their birthday party and she confronts Lee and tells him about how she feels toward Noah. Meanwhile Noah is heading of to Harvard. Elle tries to go after him, but she didn't know that Lee and Noah pulled a switch-a-roo. She tells Noah about how she feels. Months pass and Noah has to go and leave for college.  
This movie is one of my favorite movies that I have watched. There is comedy in it but it is romantic at the same time. One of my favorite parts is when they show the Kissing Booth at the carnival, because Elle got her first with Noah. It shows how dreams could actually come true and that anything is possible. The Kissing Booth shows many characteristics that happen now a days. It also showed the strong relationship that Elle and Lee have. It is a true friendship that many people want in their life… including me a friendship that is never going to end. It also shows a lot problems that happen in real life. This movie shows so many components that may not have happened years ago. Movies have evolved with time and this one is a great example.