Madden 17 kicked off on August 23rd 2016 and hit hard in the stores.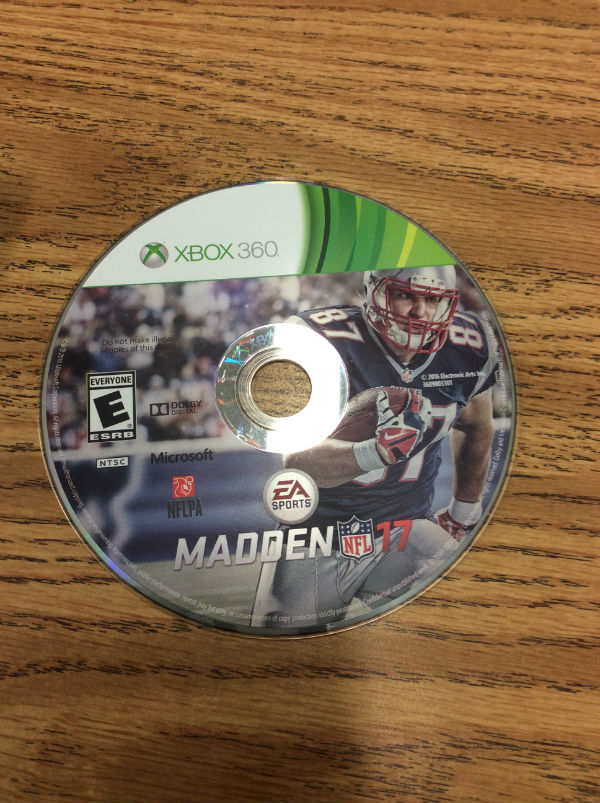 Madden 17 is a game based on The National Football League. Rated E for everyone, the game is for all ages and genders who want to feel the experience of being a Quarterback, Running Back, Wide Receiver and a Defender. Published by EA Sports you can play it on PlayStation 4, PlayStation 3, Xbox One and Xbox 360.
Game Modes:
Madden 17 has 8 different game modes to play. Skills Trainer, Gauntlet Mode, Try Ultimate Team, Draft Champions, Connected Franchise, Online Head to Head, Practice, and Play now.
Skills Trainer:
Skills Trainer is a mode where you can improve your Madden skills and Ultimate Team players. You play against other teams but not a game just for practice, using the plays to get better at playing the game. You can also train your team/players and get them better at playing on the field. Get them better at running, tackling and catching. Skills trainer is very helpful. It helped me learn new plays, tackles and passes. My team is always getting better. It tells you how do certain plays and helps you through each play until you get the hang of it. I suggest playing this before the real game to learn about the plays before you start.
Gauntlet Mode:
Gauntlet Mode is a better way to train your players. It is mostly like Skills Trainer, but more intense. I've never played Gauntlet mode before. It never really caught my eye because it is just like Skill Trainer, but more intense. Maybe I'll try one day. If you want to become the King/Queen of Madden then this is for you.
Try Ultimate Team:
Collect. Upgrade. Dominate. Collect your teams' players. Upgrade them and make them a lot better. Dominate the competition. I've never played this one either because I don't really want to upgrade my players just yet. I may try it if one day I want to upgrade my players. If you want to upgrade your players, build them up and dominate the other teams you should try this.
Draft Champions:
Drafting your team will make or break your success. Start out small and draft your way to victory.  Draft Champions isn't for me because I don't want to take the risk of my success to break. If you like to take risks, then this mode is definitely for you.
Connected Franchise:
Play online or offline as an Owner, Coach, or Player. I don't really seem too interested in this because it just doesn't seem that fun for me. If you like to be the boss of things than this is for you.   
Online Head to Head:
Play online against other users. (You need Xbox Live)  I don't play is because I don't have Xbox live, but if you have Xbox live and you want to verse your friends or random people around the world and see who's the best Madden player then Online Head-to-Head is for 100% for you.
Practice:
Improve your game. This is so helpful for beginners who know how to play the game, but need to practice using the plays. You can practice the different types of throws, the different type of tackles, kicking field goals, punts and kickoffs.
Play Now:
Play as any NFL you want against other NFL teams like a real game. You can pick which two teams you want to play as, who is home and who is away, what field you want to play on, the time of day the game is played, (1:00pm, 4:45pm or 8:30pm) the type of weather there is ex: sunny, overcast, partly cloudy, heavy rain, light rain, heavy snow and light snow and how long the quarters are. This is my favorite mode in this game. I play it all the time, it is super fun. You can use any play that you want and all plays are available for use.  If you like watching games on TV, this mode is just like that. The picture is so real. It's like you're watching a real game. Everyone should try this mode. I'll know you'll love it.
Madden 17 or 18? Which one is better?:  According to articles, a lot people say Madden 18 is better. The picture on the game looks better in Madden 18 according to pictures on Google. Most people now play Madden 18 but a lot of them use to play Madden 17, but the play Madden 18 now because of the new mods that the game has. " Madden 18 is better than 17 because they have more mods like long shot, and they have better players in Draft Champion" explained Ja'kiir Waties a 7th grader.  I don't have Madden 18 so I can't give my opinion on which game is better.