7th grade March Teacher of the Month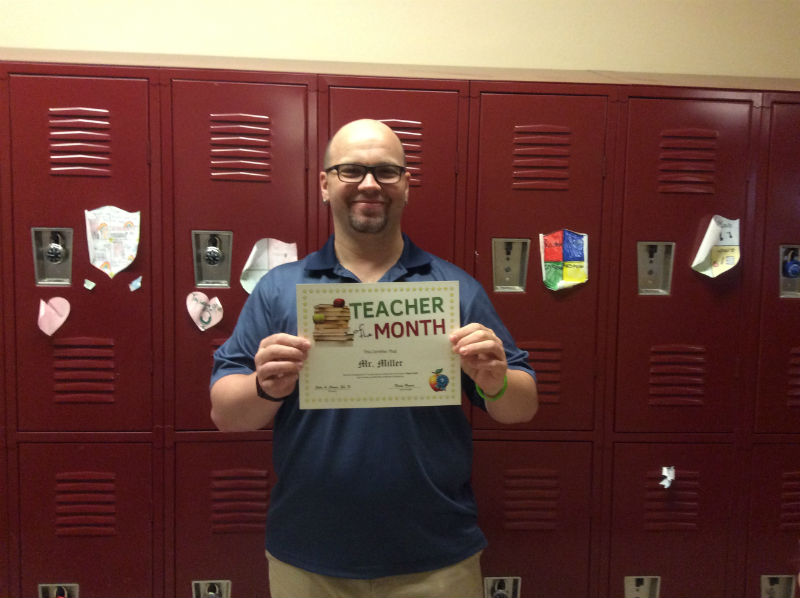 It's award season at Woodbridge Middle School.
For the 7th grade Teacher of the Month for March, Mr. Miller has won. "I think why I got it is because students appreciate my work" says Mr. Miller "I think they can see I want to be there to help them learn." He added it might also be that they respect him.
"My 5th grade teacher Mr. Patten was a big inspiration," he said.. Mr. Miller added throughout his life he enjoyed history (Civics). Believe it or not Mr. Patten was my principal at Matthew Jago School 28. Mr. Miller went to Matthew Jago but before it was called Glen Cove.   
Mr. Miller said he had a kid when he was teaching before that was "good at geography." He also said he helped that student with his collar in the 8th grade. Then a couple of years later he saw that kid again, but as a teacher. That kid was Mr. Catalano. Mr. Miller was happy that Mr. C remembered him.    
Mr. Miller, a New York Rangers fan, commented on the firing of former head coach Alain Vigneault, "It was time for Alain Vigneault to go." Mr. Miller was relieved that he went.
"Im cold," Mr. Miller quipped, "now I have to buy shaving cream." If your wondering why he is saying this is because he shaved his infamous beard. When he came up to the stage to shave his beard for St. Baldricks he got the biggest reaction. Teachers and students were in awe when they saw his bald chin.
St. Baldrick's is a non-for-profit organization to help raise funds for children with cancer. The reason why he and other student and shaved his head is like a symbolic reason. It shows that they are with the children who have childhood cancer.