Street Hockey Works It's Way Around WMS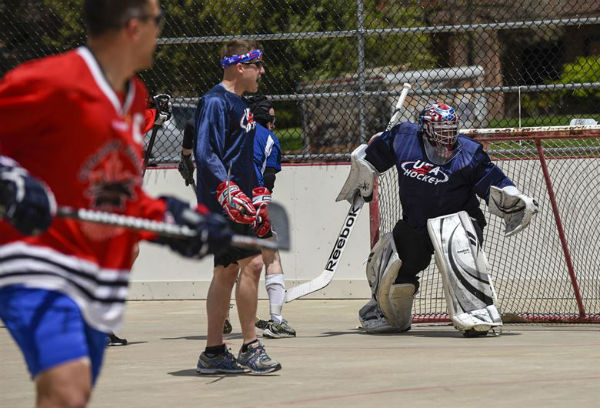 Around Woodbridge, street hockey isn't the most popular sport, but it is an exhilarating sport that people should try.
Anthony Velardo, a 7th grader at WMS, plays the sport and "loves" it.  Velardo was introduced to the sport when he went to his friend's house, then he was shown the sport of hockey and he has "had a passion for it" ever since.
The person Velardo looks up to is Martin Brodeur.  Brodeur is a retired ice hockey goaltender who used to play for the New Jersey Devils.  He won three Stanley Cups with the team and also scored three goals, which no other goaltender has ever done before. Velardo said, "I look up to him because he was a great goalie.  I also like him because he was humble".
Velardo started playing street hockey when he was in the 4th grade in the springtime. Velardo plays any position he has to when it is needed. Velardo said, "My favorite position to play is goal because I am agile and fast between the pipes." Velardo said,"after playing hockey for the first time I was excited about how fast pace the game was played".
Velardo's favorite team is the New Jersey Devils. Velardo said,"they are my favorite team because they are the hometown team and my parents are New Jersey Devils fans too."  Like everyone else, Velardo has his "go to" number, which is 7.  Velardo said,"it is my favorite number because it's my lucky number and whenever I wear it good things happen and it also doubles as the day I was born".
There is another 7th grader at WMS who plays street hockey; his name is Noah Gibb.  The reason he started to play street hockey instead of ice hockey was because Gibb was too young for ice hockey at the time.  Gibb started playing when he was in the first grade.
Like Velardo, his position in street hockey is also goalie. Gibb said,"I picked goalie because it is the hardest position and I like to challenge myself." Gibb's first experience playing street hockey was "pretty good".   Gibb chose hockey over other sports "because it was less noticed and I thought I could raise some attention for the sport".
Gibb's favorite professional team is the New York Rangers and his favorite player is Henrik Lundqvist, the goalie for the Rangers."  He is my favorite player because he was the first goalie I saw." Gibb also has a favorite number and it is 30, "it's my favorite number because its Lundqvist's number."
I also play in the league with Velardo.  I joined the league when I was eight years old.  I started playing because my friend started playing then showed me the sport that I fell in love with.  My positions in hockey are either left wing or right wing, but my favorite position is goalie.
Because hockey is a fast-paced game, my first experience playing it was fun.  Before I started playing hockey, I also played softball and soccer, but when I started playing hockey all the other sports were just slow and boring to me after that.
The New Jersey Devils are my favorite team in the NHL and my favorite player of all time is Martin Brodeur.  He is my favorite because he is a goalie and he had a different playing style than anyone other goalie in the league.Before Brodeur retired alot of goalies in the leauge were changing their playing style to a butterfly type while he stayed in an older style.
My "go-to" number for any sport is 22.  I pick 22 because it was the day I was born, but when I wear the number good things happen.  For example, the first time I wore 22 my team won the championship.
Now that you heard about street hockey from your fellow students at WMS we hope that we see you in the spring for some hockey.