Mrs. Moorjani's unorthodox approach to fundraising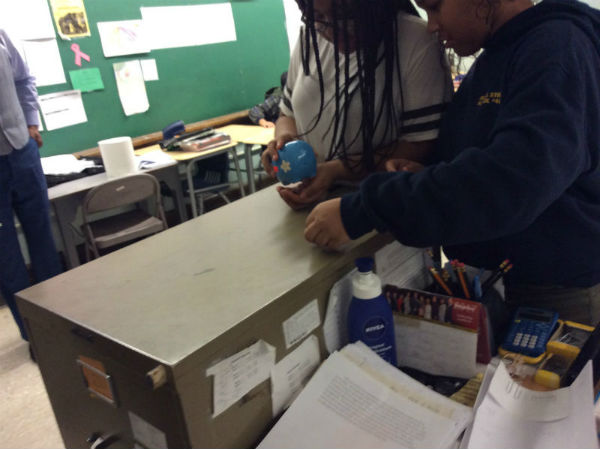 Hang on for a minute...we're trying to find some more stories you might like.
Mrs. Moorjani and her students are doing a fundraiser to help out the people in need. Mrs Moorjani and her class are fattening up their piggy banks, to fatten up other's banks.
Mrs. Moorjani is a math and honors teacher for the sixth grade in Woodbridge Middle School. She formed the idea to start a fundraiser with her math students to help the people in need. She said that her inspiration comes "from her dad." She said, "he donates a lot and feels good about it after".
Here is how the fundraiser works: Mrs. Moorjani's students put in some of their pocket change in a piggy bank.  They can't donate more than five dollars, and after a few weeks, they empty it. Mrs. Moorjani puts in the same amount of money the students donated to double it, and that will be the final donation. Mrs. Torella gave her input too, she said, "in my opinion, it hits a home run every year."
Mrs. Moorjani and her students have donated a combined total of $68.82. Her block one donated $6.39, block two donated $9.02, and block 3 donated $19.00, which makes up $34.41. If the classes donated $34.41, that means Mrs. Moorjani donated the same as the students.
Two students that participated in the fundraiser, Leah Antoniello and Kadence Mastroh, weighed in on the event. . "I like helping people," Antoniello said, "I don't really care what it is for." Mastroh elaborated on this, "even if you only have five dollars to donate, every penny counts. You might as well give it to people who need it instead of spending it on some junk you will not really use."
Before the piggy bank was opened, there was a speech made by Mastroh. She explained that Mrs. Moorjani is doing an "amazing thing" by starting up this fundraiser. She said in her speech, "Even though we might not have donated the most money, every penny counts if you are helping someone."
Last year, Mrs. Moorjani and her classes donated a total of $188.06, which is more than two times what was donated this year. Mrs. Moorjani said, "Money is money, if it is still something to donate then it will be donated and still used."