A new warrior has joined our school:WMS welcomes Miss Szoke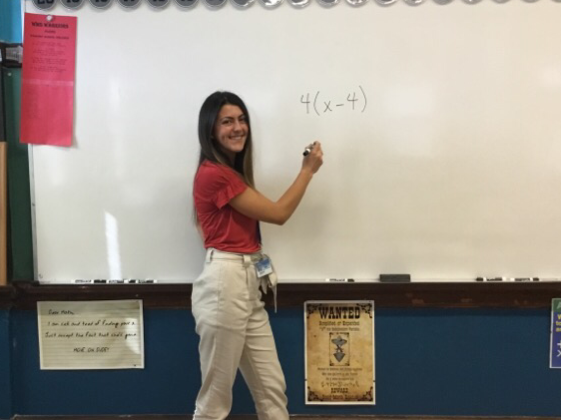 Hang on for a minute...we're trying to find some more stories you might like.
Miss Szoke taught at one school before WMS called Logan Middle School. She is currently a math teacher.
When asked about WMS, Miss Szoke commented, "I like the atmosphere of the school and my classes have been awesome." When asked why she came to WMS she explained, "I taught at Logan Middle School, but I looked forward to teaching at the district I grew up in."
Miss Szoke is an "energetic teacher" who always looks for hands to participate. Mrs. Szoke said she wanted to become a teacher because she wanted to have an "impact on the future society".
When asked about her favorite hobbies Miss Szoke commented, "I love cheerleading and staying active in my free time. I also love playing with my dog."
Miss Szoke explained what was important to her, "The most important thing in my life is family because they're my biggest supporters and encourage me to do my best." She went on to explain how others would describe her, "People describe me as always wanting to help other people and make an impact on others."
What WMS students say about Miss Szoke
"She is nice, patient, and a good teacher."- Maggie Mcnee
"She brings character and is nice all-around, and her rules follow what the class wants."- Jashandeep Singh
"Miss Szoke is an amazing teacher who is willing to give up her time to help students in need."-Zain Shiraz
"She is a good teacher; she is happy and always smiling"- Angel Perez
"She is a very nice teacher, she is understandable, and she makes math very fun."-Christopher Guzman
"She is nice and helps a lot."- Zaniyah Grooms
"She is nice and her teaching is helpful."-Andrew Delasota
"She is a great teacher and is very nice to her students."-Jacob Solivan
"She is funny, is a good teacher, and she makes learning easy."- Evangelous Sistasis
"She is nice, helps a lot, and is a good teacher."-Alison Luis