Why does the WNBA make less than the NBA?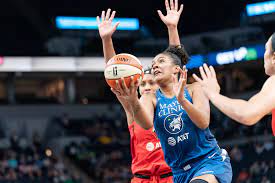 I want to bring this topic up more and talk about it because I personally don't think it's fair. I did some research and it says that the WNBA does not have the funds to pay salaries compared to the NBA average; because of that, people cannot expect the two leagues to have equal pay. One main cause of the disproportionate revenue between the two leagues is viewership.
Do I think the WNBA should get paid as much as the NBA?
A lot of people say the WNBA suffers a lot from the gender pay gap. Like other jobs involving dedicated women. Women in basketball especially deserve a raise. The WNBA would get better financial treatment if there was not a cultural issue about rewarding female athletes when they earn their spotlight. I think women work as hard as men in sports so I think they should get equal pay. The main argument against paying WNBA players more is that the league simply isn't profitable, because no one watches it. It's true that the WNBA gets about $60 million in revenue per year, while the NBA generates $7.92 billion.