Recipe of the week: Chocolate Chip Cookies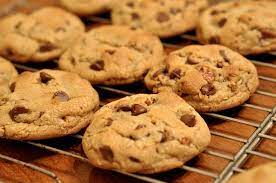 Christmas is on it's way, what's your favorite recipe to make on this day? Who wouldn't like to enjoy some cookies on a Christmas night? Here's a recipe you can use to make your own! 
Ingredients:
2 ½ cups of Flour (Any type)

1 teaspoon Baking soda

½ teaspoon Salt

1 cup Butter (Softened)

¾ cups Granulated sugar 

1 Egg

1 teaspoon Vanilla extract

1-2 cups Chocolate chips

Nuts, if wanted
Steps-
1.Heat oven to 350 Fahrenheit. In a medium bowl mix your flour, baking soda and salt. Set that aside. 
2. In a large bowl, add your softened butter and sugar, mix that together with an electric mixer or a spoon of choice.
3. Beat in egg and vanilla until it's smooth. With your electric mixer or a spoon, stir in the flour mixture. (your dough will be a bit stiff) Stir in the chocolate chips and if wanted, chopped nuts. 
4. On your cookie sheet, add little balls of dough about 2-3 inches apart from each other. Bake for about 8-10 minutes until golden or light brown. When their out of the oven let them cool for 2 minutes and enjoy with some hot chocolate!