What's up with your team?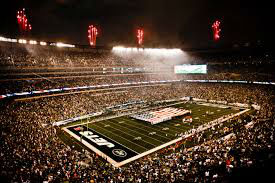 With the start of the NFL new league season, money is to be spent and players to be drafted.
At WMS there is a wealth of NFL fans, with that there are many opinions. When asked, Sam Tuju said "We need a new QB". He had no QB in mind, but said it would be nice if the Giants get one in the draft to be held at AT&T Stadium in Arlington Texas in late April.
Teacher, Mr. Murphy, a Jets fan, said he isn't that big of a college football fan, but says he likes Wyoming Cowboy Josh Allen. He added that Josh can throw 90+ yards. Mr. Murphy added "It all starts with the O-line". He said an O-linemen would be a nice addition to the team.
Kaelyb Barahona, who also is not a big college football fan said, "The team right now is all around good, but I guess we need a CornerBack." Barahona, an Eagles fan, said that the Vikings of Minnesota should have kept all their QB's and should have never signed  Kirk Cousins.
"Almost every team is good now," said Tuju, "all the teams are different too".
Mr. Murphy hopes the Jets go at least 9-7 and the Patriots go 0-16. Tuju hoped if heathley and with star reicer Odell Beckham Jr. the G-men will go 10-6, but added if they are not healthy and "Odellless" things" will not be so good. Kaelyb thinks the Eagles will go 10-6 "We had are bad days".
All these reactions would not be possible without moves happening. Free Agency really started  with a bang with the moves Cleveland made with gaining the players Jarvis Landry(WR) and Tyrod Taylor(QB). After that an onslaught of moves were to come forth.
The Vikings may have had the biggest losses with all there QBs going to different teams. Original starter Sam Bradford going down south to Arizona. Surprise star Case Keenum is going to the mountains in Denver with the Broncos. And injured Teddy Bridgewater going to the shores of Jersey with the Jets, one of my favorite moves.  
With all those losses they gained one of the biggest players in free agency, Kirk Cousins. The Vikings gave him a historic contract of three years with 84 million GUARANTEED! This signing is is big because every penny of it is guaranteed. QBs of the future will look to this deal while having talks with teams.
One of the biggest signings so far is former Cardinal Tyrann Mathieu signing with Houston. He was a hot commodity while looking for a team to sign with. Former LSU Tiger alumni with Mathieu Jamal Adams was having big talks with him trying to get him to sign with his current team the New York Jets. As tweeted by Adams "Join me and the rest of #NewJackCity". Saints Receiver tweeted "Come to the BLOCK". But at the end J.J. Watts tweet came true with Mathieu sighing with his team the Texans, "Come on over bro". 
Even though Adams didn't get to play with his former teammate he was happy to see him sign. "I'm excited to see him in the blue and red". Blue and red being the colors of the Texans. But there is hope for me and the rest of Jets nation, the deal is only one year.
Some other big moves are the Rams sighing  player Ndamukong Suh. He has a record of being a dirty player. Some examples are stomping on players, numerous of cheap shots, and fighting with referees. But the sighing of Suh is a big one for the Rams. Now they have one of the most dominant players in the league Ndamukong Suh, Defensive Player of the Year Aaron Donald, Star CB Aqib Talib, and also Star CB Marcus Peters. And that's only a few players on defense.
One of the biggest stories of this offseason is the possibility of Odell Beckham Jr being traded. Giants GM Dave Gettleman said he's not on the block, but teams calling for him isn't a bad thing. If the trade does happen, the Giants are looking for a first rounder and more. The teams that are the frontrunners are the Rams and the Browns. The Browns have friend and former college teammate Jarvis Landry. He has tweets that says he wants Odell on the team. If the Browns got Odell there offseason would be one of the biggest offseason for a team ever.
Big Giants fan and teacher Mr. Cianfano says "It would be a shame to see him go." He added "He's a generational talent". He then went on to say if he did he would like to see a 1st rounder and a couple 2nd and 3rd rounders.
A new development has come from the Odell drama, the trade of Brandin Cooks. What does this mean? The Patriots might get Odell. The reason why is that when they traded Cooks to the Rams, they got a first round pick. With the Patriots having two first rounders they have what the Giants want for Odell, but i'm a little on the fence with this because both of the picks are late in the first round.